Viperstrike
Affiliations
Current:
RiverClan
Past:
None
Names
Kit:
Apprentice:
Warrior:
Somethingkit
Somethingpaw
Somethingtail
Gender
Gender:
Male/Female
Family
Father:
Mother:
Offspring:
Randomtail
Randomwhisker
Idlekit, Snoozingkit
Education
Mentor(s):
Snowstripe
Apprentice(s):
Thistlepaw
Roleplayer
Roleplayer:
Rolelayer123
Viperstrike is a tortoiseshell tom with yellow eyes.
Viperkit is born to Troutstream and Blossomcloud, along with his sibligs Dapplekit, Riverkit, and Rockkit.
He and his siblings later recieve their apprentice names: Viperpaw, Rockpaw, Dapplepaw, and Riverpaw. Snowstripe becomes his mentor.
His progression as an apprentice improves.
He, along with the other older apprentices, take the assessment that will decide which become warriors, and which stay apprentices a bit longer. They all pass with flying colors.
He tells Rubystar he wants to be called Viperstrike.
He later receives his warrior name, along with his brother and sisters.
He is shown to be very quiet and reserved.
When Thistlepaw's mentor, Troutstream, is killed by a wolf, Viperstrike is chosen to be his new mentor.
Real Life Image
Edit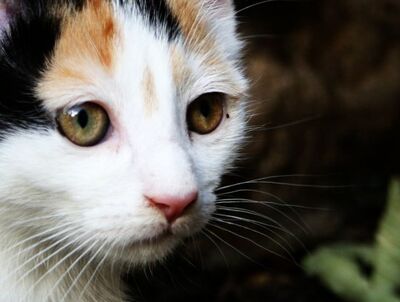 Father:
Mother:
Brother:
Sisters:
Grandfather:
Grandmother:
Great-Grandfather:
Great-Grandmother:
Aunt:
Great-Uncle:
Cousins:
Family Tree
Edit

                                        Kestrelfeather---Hazeleyes
                                                       |
                                          ------------------------------
                                          |                            |
                             Sunfire---Rubystar                    Troutleap---Cloverheart
                                     |                                       |
                               -----------------                         ----------
                               |               |                         |        |
                            Kaito        Blossomcloud---Troutstream   Blackpaw  Leafpaw
                                                      |
                                         ---------------------------
                                         |        |       |        |
                                     Dapplestep Rockstream Viperstrike Rivermoon
                                                     

Ad blocker interference detected!
Wikia is a free-to-use site that makes money from advertising. We have a modified experience for viewers using ad blockers

Wikia is not accessible if you've made further modifications. Remove the custom ad blocker rule(s) and the page will load as expected.