Smallfoot
Affiliations
Current:
Loner
Past:
ThunderClan & Starclan
Names
Kit:
Apprentice:
Warrior:
Somethingkit
Somethingpaw
Somethingtail
Gender
Gender:
Male/Female
Family
Father:
Mother:
Offspring:
Randomtail
Randomwhisker
Idlekit, Snoozingkit
Education
Mentor(s):
None
Apprentice(s):
None
Roleplayer
Roleplayer:
Rolelayer123
Smallfoot is a small black tabby she-cat with white paws and blue eyes.
She is born to Dawnbrook and Nightwhisker, along with her littermates, Bluekit, Dawnkit, and Mosskit
She dies of a ShadowClan patrol taking her, and she goes to StarClan.
She gives Featherstar her 6th life, of mentoring, to train the young of the clan. Later telling her that she knows the patrol didn't mean to kill her. That Featherstar never meant to kill her.
StarClan gives her another chance, and she gains an apprentice name, Smallpaw.
She is later given a warrior name, Smallfoot. She is willing to take care of Hawkshine's kits, but only if she has a mate first. She has been very depressed latley because of this. She wants to take care of the kits, but she is terrified to do it alone. She soon meets a WindClan warrior, Stormmask, and she falls in love with him. She convinces him to join ThunderClan.
Real life Pic
Edit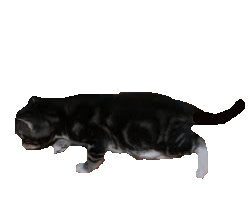 Ad blocker interference detected!
Wikia is a free-to-use site that makes money from advertising. We have a modified experience for viewers using ad blockers

Wikia is not accessible if you've made further modifications. Remove the custom ad blocker rule(s) and the page will load as expected.