Mountain
Affiliations
Current:
Loner
Past:
None
Names
Kit:
Apprentice:
Warrior:
Somethingkit
Somethingpaw
Somethingtail
Gender
Gender:
Male/Female
Family
Father:
Mother:
Offspring:
Randomtail
Randomwhisker
Idlekit, Snoozingkit
Education
Mentor(s):
None
Apprentice(s):
None
Roleplayer
Roleplayer:
Rolelayer123
Mountain is a huge, broad shouldered dark brown tabby tom with very thick fur, a bushy tail, and green eyes.
Mountain lives in the mountains with Echostream, Nyoka, and Silver.
He captures Echostream from WindClan, because of his interest in her inner-demon. He brings her back to his cave. However, a patrol of WindClan cats come back for her, and a huge fight ensues. Mountain eventually chases them off, and confronts Nyoka when the brown tom enters the cave with prey, having just missed the fight. He tells him all that had happened, and Nyoka is interested, but not sorry he missed the fight.
Mountain is shown to be a bit dim-whitted, but is fantastic in battle.
Mountain often annoys Nyoka, but the two go way back. Nyoka reveals to Echostream that they first met when Mountain saved Nyoka from a group of rogues that bullied him at a young age, and practically raised him as he had no family of his own.
Real Life Image
Edit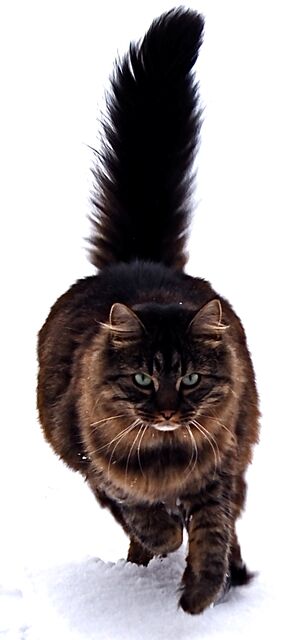 Mate:
Sister:
Echostream:[2] Living
Nieces:
Pheasantwing: Living
Leopardgaze: Living
Family Tree
Edit


                                 Unknown Tom---Unknown She-Cat
                                             |
                                 -------------------------
                                 |                       |
                     Silver---Mountain               Echostream---Barkfoot
                                                                |
                                                     ----------------------
                                                     |          |         |
                                    Crowmask---Pheasantwing  Moonapw  Leopardgaze---Rabbit-tail                                                                                 

                            

References and Citations
Edit
Ad blocker interference detected!
Wikia is a free-to-use site that makes money from advertising. We have a modified experience for viewers using ad blockers

Wikia is not accessible if you've made further modifications. Remove the custom ad blocker rule(s) and the page will load as expected.