Lizzy
Affiliations
Current:
Loner
Past:
None
Names
Kit:
Apprentice:
Warrior:
Somethingkit
Somethingpaw
Somethingtail
Gender
Gender:
Male/Female
Family
Father:
Mother:
Offspring:
Randomtail
Randomwhisker
Idlekit, Snoozingkit
Education
Mentor(s):
Unknown
Apprentice(s):
None
Roleplayer
Roleplayer:
Rolelayer123
Lizzy is a slender white she-cat with ginger patches and yellow eyes.
Lizzy is a loner who lives with her friend, Winter in a old abandoned Twoleg pickup truck near Twolegplace. It is noted that she was a kittypet who ran away after being abused by her Twoleg. Lizzy is shown to be very interested in other kittypets and how their life is like. She and Winter accidentally eat Lily and Diamond's tuna at Lily and Diamond's House but the kittypets generously just laughed about it.
She later fights a fox near the WindClan border, and is tossed to the River severely injured. But she picks herself up and heads home to be with her best friend, Winter. She is later seen trying to convince Diamond to live with her and Winter.
Lizzy finds a grief-stricken Heather under the dumpster early in the morning, crouching over Blaze's dead body. Lizzy tries to comfort her, but she hisses bitterly at her and tries to attack her. Frightened, Lizzy runs to Twolegplace.
Real Picture
Edit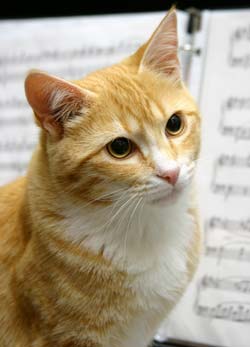 Distant cousins: Dewdrops on Grass and Roar of Waterfall