Kirara
Affiliations
Current:
Rogue
Past:

Bob/Araag

Names
Kit:
Apprentice:
Warrior:
Somethingkit
Somethingpaw
Somethingtail
Gender
Gender:
Male/Female
Family
Father:
Mother:
Offspring:
Randomtail
Randomwhisker
Idlekit, Snoozingkit
Education
Mentor(s):
none
Apprentice(s):
None
Roleplayer
Roleplayer:
Rolelayer123
Kirara has two forms, one is a apprentice sized form, which looks like a cream she-cat with black ears, red eyes, black stripes on her legs, black paws, a black diamond on her forehead, and two tails which have black stripes and ends. She looks the same in her large form (roughly the size of a lioness) but has two large fangs jutting out, and fire on her paws which lets her 'fly' (leap) for long distances.
She lived in the desert, and was Gaara's prison gaurd when he was locked up. Gaara was starving, so she slipped him a fennec fox leg, and things such as mice or deer meat. After Tuski switched places with him, she carried Gaara on her back in large form back to the forest, and decided to live there ever since.
She also found a shikon jewel shard, which was very pure, and painful for her to hold for unknown reasons, so she gave it to Cobalt instead.
She was recently possesed by a shard, and along with Cobalt tried to murder Gaara (she was not aware at the time).
This information was revealed by the role player.
She has two forms, one large and one small.
Kirara is based off the anime character from InuYasha, Kirara
Kirara is actually pronounced Key-la-la.
Notable facts and details
Edit
She has two tails, which is most likely a genetic mutation.
None Known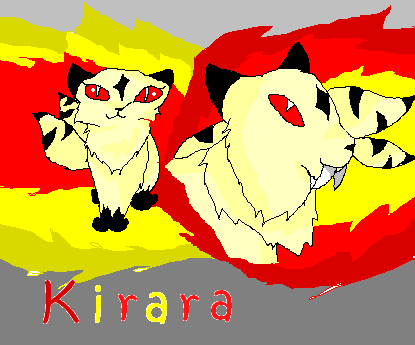 ""Its a Fennec, a type of desert fox." -- Kirara to Gaara."
—Kirara
References and Citations
Edit
Ad blocker interference detected!
Wikia is a free-to-use site that makes money from advertising. We have a modified experience for viewers using ad blockers

Wikia is not accessible if you've made further modifications. Remove the custom ad blocker rule(s) and the page will load as expected.