Jack
Affiliations
Current:
Kittypet
Past:
Rougue
Names
Kit:
Apprentice:
Warrior:
Somethingkit
Somethingpaw
Somethingtail
Gender
Gender:
Male/Female
Family
Father:
Mother:
Offspring:
Randomtail
Randomwhisker
Idlekit, Snoozingkit
Education
Mentor(s):
None
Apprentice(s):
None
Roleplayer
Roleplayer:
Rolelayer123
Jack is a small, brown-black tom.
Jack is a rougue. He is the mate of a rogue named Peace, and the father of Hippieheart. His sister Jasmine lives in Twolegplace as well.
Her former mate, Flame was killed saving him from a fire, wich shows Flame would sacrifice her life for Jack's life.
Jasmine then wants to join WIndclan but sees Jack, her mate. They then reunite
He and Jasmine are later caught on WindClan's territory by Pheasantwing.
They race eachother back to Twolegplace.
He later is seen in WindClan, and delivers a message to Sneerkit and goes back to his sister, Jasmine.
He then goes back to live with his sister and becomes a Kittypet. He is then seen messing with wolves, but once he sees they're wolves, he stops; afraid they are going to hurt him.
Real life image
Edit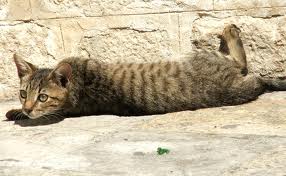 Theme song
Edit
Main:
The Girls: Clavin Harris
Mates:
Peace: Living
Flame (formerly)[1] Deceased, Member of the Starry Skies
Daughter:
Hippieheart: Living
Sons:
Sister:
Nieces:
Great Nephews:
Great Nieces:
Family Tree
Edit

                   Unknown Tom---Unknown She-Cat             Unknown Tom---Unknown She-Cat
                               |                                         |
       --------------- --------------------          -----------------------------------------------
       |   |         | |                  |          |                                             |
     Flame | Peace---Jack              Jasmine---Scarheart                                       Daisy---Jackson
           |       |                           |                                                       |
       ---------   --------              --------------------------------                         ------------
       |       |          |              |         |                    |                         |          |
   Evilpaw  Shadowpaw  Hippieheart   Frostwind  Foxfire---Cedarpelt  Mudheart---Cypressfrost  Sneertooth  Silverkit
                                                        |
                                        ---------------------------
                                        |       |        |        |
                                    Finchkit  Mudkit  Moonkit  Foxkit                                                   
                                                                                                                  

                            

References and Citations
Edit
Ad blocker interference detected!
Wikia is a free-to-use site that makes money from advertising. We have a modified experience for viewers using ad blockers

Wikia is not accessible if you've made further modifications. Remove the custom ad blocker rule(s) and the page will load as expected.