Hershey
Affiliations
Current:
Loner
Past:
none
Names
Kit:
Apprentice:
Warrior:
Somethingkit
Somethingpaw
Somethingtail
Gender
Gender:
Male/Female
Family
Father:
Mother:
Offspring:
Randomtail
Randomwhisker
Idlekit, Snoozingkit
Education
Mentor(s):
None
Apprentice(s):
None
Roleplayer
Roleplayer:
Rolelayer123
Hershey is a cute, fluffy, dark brown she-cat with chocolate-brown eyes.
Personality
Edit
Daring, courageous, fierce, and full of spirit. Very independent and doesn't like to color inside the lines.
A severe thunderstorm strikes the area, carrying a twister and damaging winds with it. The independant, adventurous kit runs into a Twoleg basketball gym to play and seek shelter from the storm. Eclipse walks by and enters the gym as well, wet and cold. The tornado sirens go off and the tornado strikes the building, the roof collaspes in. Eclipse sees the kit get knocked to the floor by wood and metal and he lunges in to save her before the rest of the roof caved in. He runs to the forest with a limp Hershey in his jaws, meeting Zack, Ivy, Twister, and Eddie, the survivors. Abby is revealed dead. But Hershey has a badly broken spine, broken ribs, broken right front paw, badly scratched throat and muzzle, and a sprained back paw. But she is alive. Eclipse suggests to let her die peacefully, but Eddie suggests that there is a vet nearby that can help. They agree to this plan and take her there.
Real Life Image
Edit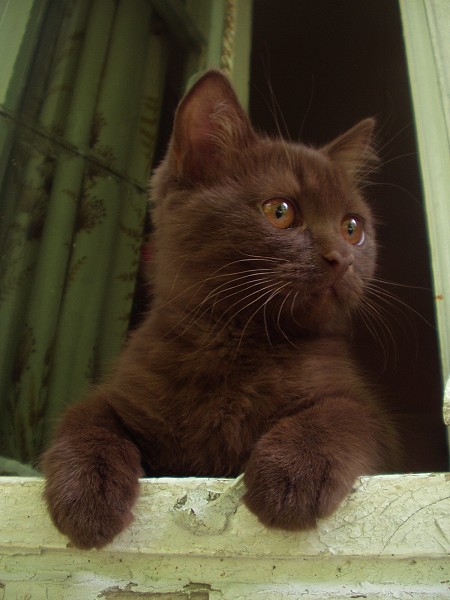 Mother:
Ivy - Living
Father:
Zack - Living
Sister:
Abby - Living
Ad blocker interference detected!
Wikia is a free-to-use site that makes money from advertising. We have a modified experience for viewers using ad blockers

Wikia is not accessible if you've made further modifications. Remove the custom ad blocker rule(s) and the page will load as expected.