Flowertail
Affiliations
Current:
SkyClan
Past:
None
Names
Kit:
Apprentice:
Warrior:
Somethingkit
Somethingpaw
Somethingtail
Gender
Gender:
Male/Female
Family
Father:
Mother:
Offspring:
Randomtail
Randomwhisker
Idlekit, Snoozingkit
Education
Mentor(s):
None Known
Apprentice(s):
none
Roleplayer
Roleplayer:
Rolelayer123
Flowertail is a small, beautiful brown tabby she cat with a white chest, paws, amber eyes, and a fluffy lighter brown tail.
She goes hunting with Gorseflower. When Gorseflower goes back to camp, she says she'll stay out alone a bit longer. Then a big rouge attacks her. Darkfrost and Smallstorm both happen to be there and help to defend Flowertail from the rogue. They both say they love her, and they fight over her. She says she'll choose one of them, but she is torn over them. She then goes to her sister, Willowstep for advice. Her sister just says to follow her heart. She then decides to choose Smallstorm, saying "You're just... Perfect for me." She is then torn between her clan, and her love. She then decices to ask Smallstorm to join SkyClan. He refuses, and later, she has her kits, Thistlekit and Briarkit for the she-cat. She is sad to leave her kit, but she is glad her kit will grow up with Smallstorm.
Her two kits are later made warriors, Briarshade and Thistleheart.
Personality
Edit
She is kinda awkward, and very modest. She is shy, most of the time, but can be kinda happy-go-lucky at others.
Real Life Picture
Edit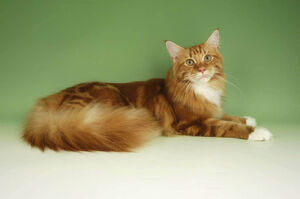 Mate:
Smallstorm: Living
Daughter:
Briarshade:[1] Living
Son:
Thistleheart:[2] Living
Sister:
Willowstep: Living

                       Smallstorm---Flowertail
                                  |
                           ---------------
                           |             |
                       Briarshade    Thistleheart
                                                                                 

                            

References and Citations
Edit
Ad blocker interference detected!
Wikia is a free-to-use site that makes money from advertising. We have a modified experience for viewers using ad blockers

Wikia is not accessible if you've made further modifications. Remove the custom ad blocker rule(s) and the page will load as expected.