Featherdawn
Affiliations
Current:
SkyClan
Past:
None
Names
Kit:
Apprentice:
Warrior:
Somethingkit
Somethingpaw
Somethingtail
Gender
Gender:
Male/Female
Family
Father:
Mother:
Offspring:
Randomtail
Randomwhisker
Idlekit, Snoozingkit
Education
Mentor(s):
Flametooth
Apprentice(s):
None Yet
Roleplayer
Roleplayer:
Rolelayer123

Featherdawn is a silver tabby she-cat with a white chest, a white tail tip, and icy blue eyes.
Featherpaw is a SkyClan apprentice. Her mentor is Flametooth. She meets Tatterpaw and shows a liking for him. When he tells her of her heritage, she tells him that she already knows, and asks him to tell . Sunpaw (E). He promises to and declares his 'love' for her. She agrees and watchs Tatterpaw leave. One night, she and Tatterpaw tell there feelings for eachother. It is reaviled that her sister is Sunpaw. When Flametooth dies, Blazefoot takes over her training.
Real life picture
Edit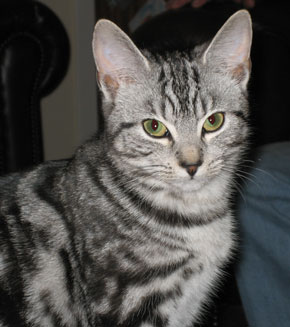 "I can't tell you how much I love you"
—Featherpaw to Tatterpaw
Ad blocker interference detected!
Wikia is a free-to-use site that makes money from advertising. We have a modified experience for viewers using ad blockers

Wikia is not accessible if you've made further modifications. Remove the custom ad blocker rule(s) and the page will load as expected.