Echowind
Affiliations
Current:
ThunderClan
Past:
None
Names
Kit:
Apprentice:
Warrior:
Somethingkit
Somethingpaw
Somethingtail
Gender
Gender:
Male/Female
Family
Father:
Mother:
Offspring:
Randomtail
Randomwhisker
Idlekit, Snoozingkit
Education
Mentor(s):
Nightshine
Apprentice(s):
None
Roleplayer
Roleplayer:
Rolelayer123
Echowind is a long furred light gray tabby she-cat with white flecks and blue-green eyes. She resembles her mother, Snowstorm.
She is later apprenticed and is mentored by Nightshine.
A while later, the leader dies, making her mentor Nightshine become leader, leaving Icepaw furious.
When Nightstar assigns Echopaw on a patrol, a fox invades the patrol. Echopaw chases the fox out and gives the fox many scars. Nightstar is very impressed and gives Echopaw her warrior name, Echowind. Her siblings are very jealous.
She notices that a fellow tom named Ravenpaw has a crush on her.
She later realizes that she is madly in love with Ravenstorm. One day they go out into the forest. He mistakes her tail for a mouse and apologizes. Ravenstorm later asks her if she would like to be his mate. She happily agrees.
Echowind later gives birth to his kits, Brackenkit, Ivykit, and Softkit.
When Ravenstorm tells her that he no longer loves her, she goes into a deep depression.
She later realizes that she loves Wolfshadow. When they go out for a walk near the river, she falls in, drowning. Wolfshadow comes in and saves her. Their eyes lock in the water. They swim up and they pad back to camp, pelts brushing.
Wolfshadow then asks her to be her mate, she happily agrees.
Real Life Image
Edit
Real Life Image
Edit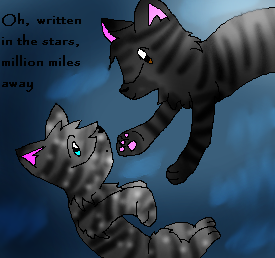 - Written In The Stars by Echopaw
Mates:
Wolfshadow: Living
Ravenstorm (formerly): Living
Sons:
Brackenshadow: Living
Fallenbirch: Deceased, Member of StarClan
Daughters:
Father:
Thistleflame: Deceased, Member of StarClan
Mother:
Brothers:
Pineshadow: Living
Ashtalon: Status Unknown
Sisters:
Iceshine: Living
Cherryfrost: Living
Grandson:
Rockpaw: Living
Granddaughters:
Nephew:
Whitefire: Living
Nieces:
Amberdawn: Living
Silverfern: Living
Snowblossom: Deceased, Member of StarClan
Great Nephews:
Owlpaw: Living
Batpaw: Living
Boulderpaw: Living
Great Nieces:
Ad blocker interference detected!
Wikia is a free-to-use site that makes money from advertising. We have a modified experience for viewers using ad blockers

Wikia is not accessible if you've made further modifications. Remove the custom ad blocker rule(s) and the page will load as expected.