Celeste
Affiliations
Current:
Loner
Past:
Celeste's Group, Kittypet, Rogue
Names
Kit:
Apprentice:
Warrior:
Somethingkit
Somethingpaw
Somethingtail
Gender
Gender:
Male/Female
Family
Father:
Mother:
Offspring:
Randomtail
Randomwhisker
Idlekit, Snoozingkit
Education
Mentor(s):
None
Apprentice(s):
None
Roleplayer
Roleplayer:
Rolelayer123
Celeste is a russian blue she-cat with vivid green eyes.
Real Life Picture
Edit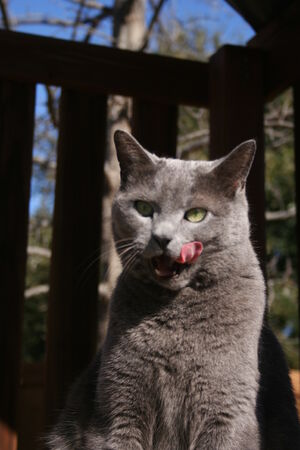 Celeste is the leader of a group of rogue cats called, Celeste's Group.
She is later forced to leave her group. She gets homesick at first but once they get into the moorland she gets batter.
On the boat they meet a cat named Callie. Callie offers to show them around but they gently decline saying, "We're to tired".
The next morning the twolegs give her warm milk and tuna. She eats it all up and lets the captian cuddle her. She later attmits that she used to be a kittypet and liked to be around twolegs.
Theme Song
Edit
Kyptonite by 3 doors Down
Link: http://www.youtube.com/watch?v=Tpl6ncyxLGw
Kittypet History
Edit
Echo got Celeste long ago at an animal shelter. She had recently given up her kittens to a new home then she got abandoned. We decided to get her because our old cat Charlie was at the end of his life. Charlie and Celeste grew a very strong bond. When Charlie died of a sickness she got depressed. We decided to get a new cat because Celeste wouldn't eat. That is where Mickey came along. She soon showed an intrest in going for walks outside. She loved to be outside and catch prey. This idea lead her into trouble. Most of our neighbors knew us because of Celeste. We would take Celeste for long walks around our neighborhood. She enjoyed that alot.
More later
Ad blocker interference detected!
Wikia is a free-to-use site that makes money from advertising. We have a modified experience for viewers using ad blockers

Wikia is not accessible if you've made further modifications. Remove the custom ad blocker rule(s) and the page will load as expected.