Annie
Affiliations
Current:
Loner/Kittypet
Past:
Neglected Kittypet
Names
Kit:
Apprentice:
Warrior:
Somethingkit
Somethingpaw
Somethingtail
Gender
Gender:
Male/Female
Family
Father:
Mother:
Offspring:
Randomtail
Randomwhisker
Idlekit, Snoozingkit
Education
Mentor(s):
None
Apprentice(s):
None
Roleplayer
Roleplayer:
Rolelayer123
Annie is a small, beautiful dusty colored tortoiseshell she-cat with bright green eyes.
Annie lives with her mate, Tux, and her friend Mercury at the Horseplace.
When Nellie, Flare, and their kits came to the Horseplace asking for a place to stay, Annie, Tux, and Mercury gladly let them stay.
She and Tux are sad when Nellie and Flare have to leave, and wish them luck on their journey to get their home back.
She is currently pregnant with Tux's kits.
When two WindClan warriors called Locustfire and Rosethorn enter her and Tux's barn, she is frightened at first. But Rosethorn assures her that they wouldn't hurt her, and ask that she allow them to stay for a while, as she was pregnant with Locustfire's kits. Annie relaxes, and is happy to oblige, but is interrupted by Tux's appearance at the barn door. Annie explains to him that they were looking for a place to stay for their kits, and Tux happily agrees.
One night, Annie goes into labor. Tux rushes over, and gives her the herbs she needs, which he had been collecting over the past few days. Locustfire and Rosethorn come over to help, and soon, Annie gives birth to two daughters. She is exhausted, but wants to name them before she goes to sleep. While she and Tux are thinking, she looks out a nearb window and hears katydids singing in the night through the thin glass. She sees a few fireflies as well, and thinks how odd that is that there would be fireflies and katydids out in the winter. She then gets the idea to name her children, and she tells Tux that they could name them Katydid and Firefly. Tux is delighted with these names, and he presses against her.
Mate:
Daughters:
Real Life Image
Edit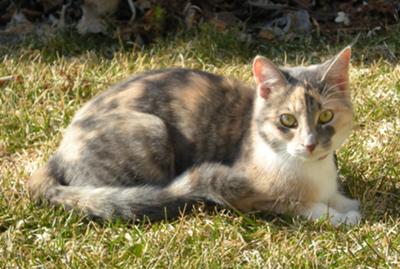 References and Citations
Edit
Ad blocker interference detected!
Wikia is a free-to-use site that makes money from advertising. We have a modified experience for viewers using ad blockers

Wikia is not accessible if you've made further modifications. Remove the custom ad blocker rule(s) and the page will load as expected.